The
Chase
is on people!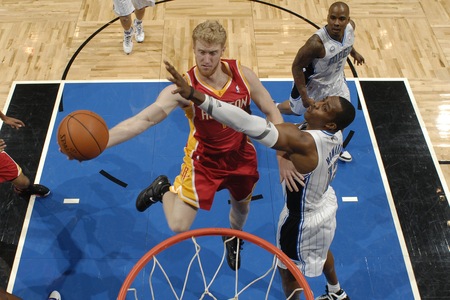 Shane Battier -
"Good luck in the starter spot!"
Chase Budinger - "I blend in with purgatory."
Freak-like
in appearance (just kidding, he's not that awkward really), this albino terror is squeezing every last drop of fantasy relevance from the heavy minutes he's been seeing as of late (the last 2 games specifically). Coming off the bench for just shy of
30 min
against Cleveland Feb 23rd, the Dinger went
9-18
from the field, and
4-8
from deep, totalling a blindingly white
30pts
and
8rebs
. Then
Saturday night
against Deron Williams' highly efficient
15-17
and the Nets, the damage done by Chase totalled
27-6-2
,
8/11 fg%
and
3/4
trey ptm, on
33 min of play
.
In a year and a half of NBA experience, (not only has he probably grown a
foot in height
) the Dingbat's numbers have proven solidity when offered court time. He's unafraid to shoot the ball, he's white as a fucking snowstorm, and it shows as the play-time increases. In the 26 professional games he's played where he's seen 25+ min, his fg sits at 51% on average of 15pts per game. And now guess what.... Chase (the Jordy Craddock of the NBA) is starting from here on in. And he's expected to thrive as a deep threat specialist. Mark me down.