It's almost time. Time to bounce back to reality for 6 and a half months. The dry spell of explosive
fantasy basketballess
boredom. As life crushing as the time spent away from breathtaking David Lee stats and
Don Nelson hate
is, it can prove to be beneficial on Keeper stud reflections. In Part 1 of this
greasy masterpiece
were gonna take a look at the illustrious Eastern Potential.
Bosh. Ka-Bosh. Right in the swirling shit winds of the playoff race, CB4 got
Jason Terry'd
(elbowed in the face to the point of much needed reconstruction). This might have ended his Raptors career (much to my dissapointment) but he will be a stat sheet dinasaur wherever he roams, its pretty much a no brainer to hold onto this all star PF-C and never let go.
Calderon is out of the keeper boat, and Jarrett Jack is tough as shit but works better on the deep end of your team so keep lookin. Bargnani, fell 3 blocks short (last year) of going 2 seasons straight with +100 blocks and +100 tre's. Nani likes to party, and i'd sure as hell like to get invited to said party.
Van Fundy's
Magic got the obvious (D-12), as well as the sketchy (Rashard Lewis, Jameer Nelson). Neither Jameer nor Shard(anymore) aren't worth the long term investment, be scared if you do, and dump em quick if it comes down to that. Half man half season only came up short in January but I wouldn't feel right keeping him over a youngin. After all Vince is a liability, as soon as he gets addicted to the next Call of Duty he'll sit for months.
Danny Granger rivaled the Durantula for potential CP3-Bron usurper this year, he hasnt quite achieved such a status yet (although Durantula could/should rank in top 3 in 10/11 season), but the
Sex Bat
threw down. He also tacked on a few suspensions for disorderly conduct (fighting) on the court which displays gritiness, sadly you don't get points for beating up hookers (or Ron Artest would be ranked top 3).
They should call New Jersey the Grizzlies, cause looking at they're roster is fucking grizzly. Having said that, Brook Lopez is undeniable, sporting splits of (18.9pts, 8.7rebs, 2.3ast, 1.7blks, 50% fg, 81% ft). Now his turnovers WILL rape and maul you, then leave you for dead in a Darren Collison 2010 like ditch, but count on the double-double split next year. Devin Harris we all seem to like. Right? Kinda? Yeah, he's young, give him a go, steals & tre's dont grow on fucking trees, but base that decision on your other keeps. Courtney Lee needs time before he's considered, but I'd keep a
watchful eye
on him.
Bron Bron is out of our reach. Anyone whose got him ain't movin him, forget about it. Antawn Jamison went 0-12 from the floor in his first game with the Cavs. Has he done anything since? This is the first it's occured to me since then that he even exists. Mo Williams is a Vince Carter - esque keeper, trust in his experience, yet not of his longevity.
This year was heavy duty for Gerald Wallace. Obvious keeper. He's so grimy he washes his hands before AND after he takes a piss. With an aformentioned All-Star appearance, instilled characteristics of unselfish play and 110% effort gauranteed, only injury can prevent further domination from Gerald. Truly bred from a
steller race
of ball players. Stephen Jackson on the other hand, has never been a keeper, never will, more of an early draft pick once scoring becomes your white whale.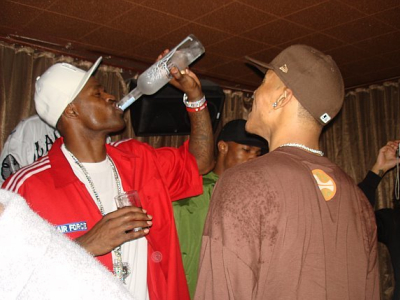 Blatche? He's beefy, number wise that is. Should you keep? Split stats Feb through Apr say yes.
Thick
scoring and unshabby defense. This prayer is fronting 21pts per while gobbling up a shade under 10 boards per. The 20-10 club is exclusive, Zach Randolph doesn't just let anyone join, but Blatche is creeping on membership. The lack of C's in Washington is spine tingling, so it looks like Blatche will be seeing 30+ min per, and if thats not keeper worthy, its worthy of stressing over during the first few post-keep picks.
In Boston, only Rondo & Pierce seem to make me take notice.
Ray
is too old/up & down / bald / topsy turvy with his shooting.
KG
is old as shit too. Rondo's got the youth, the assists, the steals, the quickness. Pierce isn't for me, but could round off your team nicely as a final keeper. Value is everything, and in between injuries, Pierce gives you just that, if you hang on, be weary of the right time to push him on someone else.
Before the length of this
behemoth
spirals too far out of control im gonna ration it. Next up we look at Miami & Milwaukee's potential for dynasty construction. Can Beasley stay out of rehab long enough to win you a championship? Do you have the patience? Should he get a haircut? Fuckin rights he should.